THE PISS(συναγωγη)PROCESS CONTINUES
The Ramban synagogue was founded upon the Rambans arrival to Jerusalem in 1267, the original building predated the Crusader period.The Arabs destroyed it after 1948.

The remains of what was the tallest building in the Jewish Quarter before destroyed by the Jordanians in 1948. The Tiferet Yisrael Synagogue was built by Nissan Bak at the request of Rabbi Yisrael of Rizhin. The dome was donated by Emporer Franz-Josef of Austria.

The Hurva Synagogue, also known as Hurvat Rabbi Yehudah HaChassid, was the center of the Old Yishuv. It was destroyed by the Jordanian legion shortly before the fall of the Jewish Quarter in 1948. It's remains can be visited under the great arch, which was built after 1967 to commemorate the synagogue, in the main square of the neighborhood.
Early Monday, Palestinian Authority Chairman Mahmoud Abbas issued a statement saying synagogues in evacuated settlements will be destroyed by the PA.

"The Israelis left behind empty structures that served as synagogues in the past," the statement read. "But they removed all religious artifacts from there and therefore they are no longer holy places."
.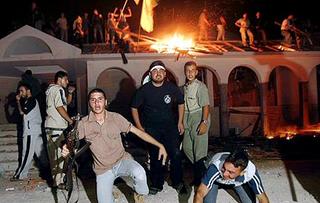 .A Palestinian mob raided early Monday evacuated Gaza settlements and proceeded to sow destruction and vandalize them. Four synagogues, in Morag, Netzarim, Neve Dekalim, and Kfar Darom, were torched.

Around 2:30 a.m., a Palestinian mob from Khan Younis raided the settlement of Morag and set the community's synagogue on fire. The masses were holding PLO and Hamas flags, and fired shots in the air and fireworks in celebration.

"This is only the first step of the liberation. Tomorrow we'll liberate all of Palestine," the Palestinians yelled.

Interior Minister Tawfiq al-Husa promised the buildings would be destroyed.Mohammed Dahlan, PA Minister for Civilian Affairs and the minister responsible for disengagement, said the Palestinians recognize no difference between the synagogues and other buildings in former Jewish communities.

Later, the masses reached Netzarim as well, shattered the deserted synagogue's windows and set it on fire.

In Kfar Darom, a mob also set the synagogue on fire.

In Neve Dekalim, a synagogue that served as a yeshiva was also set on fire. The large building was slightly damaged by thick smoke rose above the area.


-amshinover:if you have nothing nice to say, say it here